Installation on view Saturday January 21 – Sunday February 26, 2023
In the windows of The Grocery Studios (Walk Up Gallery).
Opening reception: Sat January 21, 4-6PM, eve of the Lunar New Year
View the installation in the windows; meet the artist. Beverages and snacks provided! Live performance by CHamoru queer art collective Guma' Gela' 4-5pm.
About the work
Monyee Chau's site-specific installation in the Walk Up Gallery windows, "Monyee Chau and Tu'er Shen" celebrates the lunar new year of 2023 by shining a light on the story of the Rabbit Deity Tu'er Shen, patron and protector of same sex affairs. The artwork originates in Chau's research for their upcoming zine.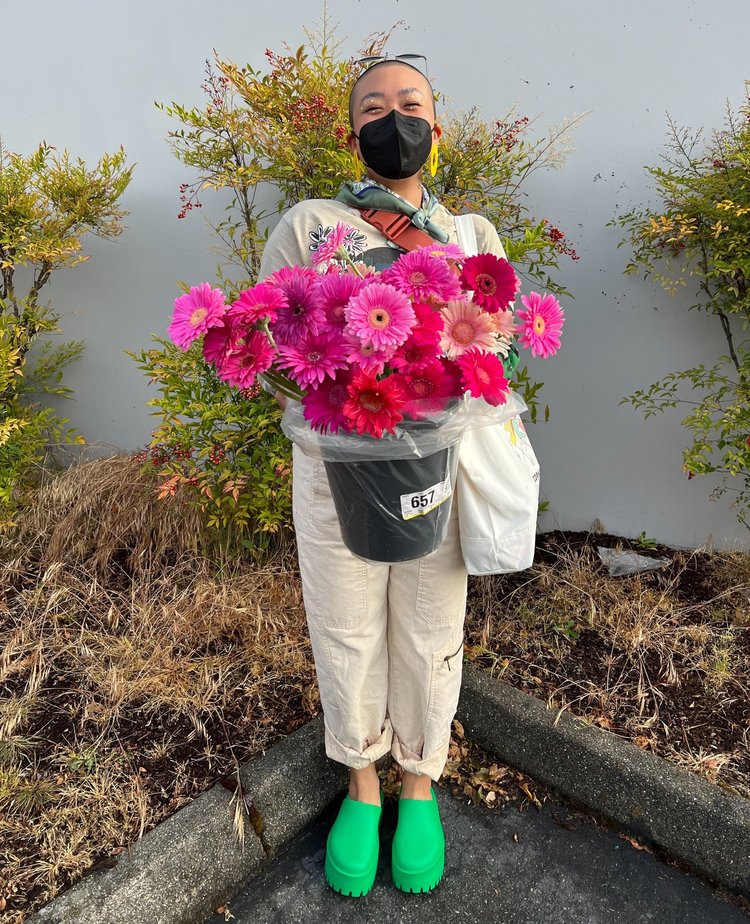 About the artist

Monyee Chau (they/them) is an artist with a BFA from Cornish College of the Arts, based in Seattle, WA. Monyee explores a journey of personal and collective healing through means of labor, through intersectional lenses of being queer and Taiwanese/Chinese. They believe in the power of storytelling and breaking bread as a means of community building for the path to justice and liberation. They have exhibited and curated in spaces both locally in Seattle and internationally, including the Wing Luke Museum, Bellevue Arts Museum, SOIL gallery, Museum of Northwest Art, California College of Arts and Crafts. They have been a speaker for Harvard Graduate School of Design, the University of Washington, New York University, Highline College, and Bellevue School District. They have been a recipient of the 100 Changemakers award from the Bill and Melinda Gates Foundation, and the Arc Artist Fellowship from 4Culture.
Learn more about Monyee and their projects at https://linktr.ee/monyeechau.
About Guma' Gela'
Part Land, Part Sea, All Ancestry
Guma' Gela' is a queer and trans art collective representing Laguas & Gani (the Mariana Islands). Guma' Gela' is an inclusive collective with a mission to cultivate and innovate the CHamoru culture through interdisciplinary artistic expression. They are storytellers made up of illustrators, make-up artists, poets, performers, photographers, singers, weavers and designers! Through their collaborative work, they amplify each others' voice and bring fantasy into reality. Effectively granting people permission to exist in their entirety while building community.
A note from the collective: "The word gela' roughly translates to different, and is a pejorative used to describe queer and trans CHamoru people. Here, as a collective made up of gela' people, we are using the word to also mean existence as well. In a way, we exist because of our difference and wanted to create a guma' (house) where we are able to do that."